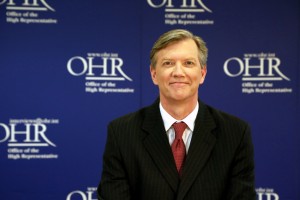 Principal Deputy High Representative and Brcko District Supervisor
September 2015 – October 2016
Bruce G. Berton most recently served as the Deputy Chief of Mission at the Embassy of the United States of America in Sofia, Bulgaria. He joined the Foreign Service in 1987 and has served in a variety of positions in a variety of places, including Caracas, Moscow, Bermuda, Hong Kong, Rome, Mexico City, Frankfurt and Warsaw in addition to five years at the State Department's headquarters in Washington, DC. He has served as a Watch Officer in the Department's Operations Center, as a U.S. representative in a multilateral mission, in several management and reporting positions, and as the Director of the State Department's Office of Management Innovation from 2012 – 2014. In that role, he conducted a TEDx talk entitled, "What is Required for True Innovation." He is the recipient of a number of Department awards.
Mr. Berton is a native of the Pacific Northwest and is a 1983 magna cum laude graduate of Pacific Lutheran University with an Honors degree in International Relations. Prior to the Foreign Service, he spent three years with the Boeing Company in Seattle. Mr. Berton is married to Susan Berton, a teacher, and is the proud father of Katherine and Aaron, two grown children.