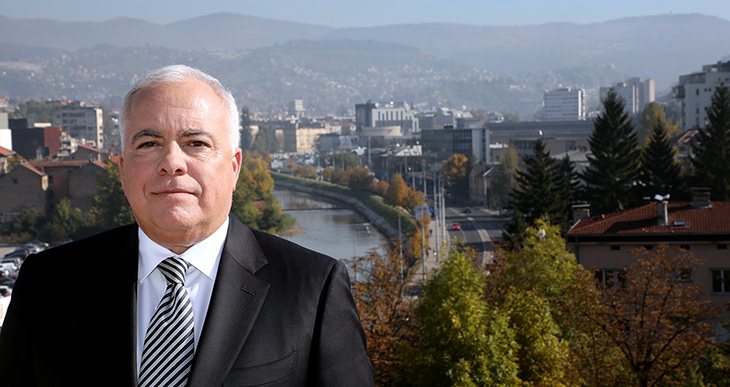 Dennis Walter Hearne
Principal Deputy High Representative and Brčko District Supervisor between October 2017 and November 2018
Dennis Hearne, a Senior Foreign Service Officer in the U.S. Department of State, currently served as the Principal Deputy High Representative in the Office of the High Representative in Sarajevo, Bosnia and Herzegovina between October 2018 and November 2018. As the PDHR, Hearne supported the High Representative in implementing the General Framework Agreement for Peace (also known as the Dayton Peace Agreement), which has served as the basis for peace and stability in Bosnia and Herzegovina since the end of the war there.  Hearne was also the international Supervisor of Brcko District, a distinct administrative area within Bosnia and Herzegovina.
Prior to arrival in Sarajevo, Hearne was the Deputy Chief of the United States Mission in Afghanistan (October 2016-September 2017), Senior Advisor on national security issues to Under Secretary of State for Political Affairs Thomas A. Shannon (2015-2016), and Foreign Policy Advisor to the U.S. Army Special Operations Command (2012-2015).   In earlier conflict zone and stabilization missions, Hearne was an advisor embedded in U.S. airborne infantry units operating in the eastern provinces of Afghanistan from 2007-2009, and served in Croatia and Bosnia and Herzegovina during the 1993-1996 conflict, thereafter working with the International Criminal Tribunal for the Former Yugoslavia in the Hague, 1996-1998.
In addition to his political-military background, Hearne is one of the State Department's most experienced officers in Brazil.  From 2009-2012, Hearne was the U.S. Consul General in Rio de Janeiro, Brazil, served as Counsellor for Political Affairs at the U.S. Embassy in Brasilia from 2003-2007, and had earlier career postings in Brasilia and Sao Paulo.  Other Foreign Service assignments included the U.S. Embassy in Lisbon and tours of duty in the State Department's Bureau of European and Eurasian Affairs and Bureau of Political-Military Affairs.
A native of North Carolina, Hearne entered the Foreign Service in 1985.  He has a Master of Science degree in strategic studies from the National War College and a Bachelor of Arts degree from Wake Forest University.  He speaks Portuguese and has studied languages of former Yugoslavia.  Hearne is a six time recipient of the State Department's Superior Honour Award and was decorated with the Outstanding Civilian Service Medal by the U.S. Army.