High Representative Valentin Inzko met today in Warsaw with the Polish Foreign Affairs Minister, Jacek Czaputowicz. The High Representative informed Minister Czaputowicz about the current state of affairs in Bosnia and Herzegovina, highlighting areas which require urgent action by domestic political leaders.
"BiH's journey towards the European Union must be accelerated. It is up to country's leadership to maintain the momentum following the submission of the answers to the EC Questionnaire. Simultaneous action is required. In order to achieve progress, leaders need to follow the established European practice: dialogue, compromise, and solutions that everyone feels comfortable with."
Speaking about the immediate priorities, the High Representative stressed that an agreement needs to be reached with regards to the electoral reform, in order to enable smooth conduct of 2018 elections and the implementation of election results: "The international community wants to see a solution that is a product of domestic efforts. We stand ready to offer any technical and legal expertise in support of the EU/US-led facilitation process."
The High Representative expressed his gratitude for Poland's longstanding commitment and contribution to the post-war development and reconstruction of Bosnia and Herzegovina, through its engagement within the EU as well as bilaterally.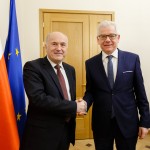 Photo: S. Indra/Poland MFA